We are currently undertaking a study to inform the development of a core 'Research Skills Training Curriculum'. This aims to agree an *essential* set of courses that would constitute the minimum set of skills, knowledge and key principles that would enable those with limited or no previous experience to undertake high-quality health research.
We designed a four-stage approach to establishing this evidence-led curriculum, as illustrated in further detail in the infographic below.
.............................................
Stage 1: Gap Analyses
A series of 'Gap Analyses' to identify the key perceived needs in health and laboratory research capacity across a wide range of low and middle income country settings. This included a comprehensive review of the responses from a series of research training needs surveys, session evaluations from research training workshops, and feedback submitted on completion of eLearning, collected by The Global Health Network from 2017 to 2019.
We analysed the responses of 7,167 participants from 153 countries across the globe. This provided us with a range of research skills topics and categories that informed a generated list of 98 research-training themes.
.............................................
Stage 2: Delphi Panel (Round 1)
A 2-round Delphi panel to seek consensus on the framework for this essential research skills curriculum.
The Delphi panel is formed of experts and stakeholders in the field of health research and health research training, with heterogeneous expertise and from diverse geographical regions. We sought to include widely representative views of researchers, research participants, research training facilitators, members of research advisory committees, research funders, authors of peer-reviewed research training papers, authors of research training books/programmes, journal editors, research policy makers and regulators.
This Delphi Round 1 survey offered an opportunity for panellists to indicate which of these 98 themes they considered essential to be included in the Research Skills Training Curriculum and to suggest any themes considered missing or omitted from the proposed framework. The themes presented were scored on the basis of two classifications: [a] relevance (should this category / skill be included?) and [b] clarity of each statement (is it clear what the category or theme reflected?).
Delphi Round 1 survey results:
The panel team reached consensus on 43 of the listed themes to be included in the Essential Research Skills Training Curriculum.
No consensus was reached for any theme to be

excluded

from the Essential Research Skills Training Curriculum.
The remaining 55 themes will be re-evaluated in the Round 2 Delphi survey alongside 8 themes indicated as unclear in Round 1 and 10 new themes generated by panellists in Round 1.
Please see the full report for more details of the Delphi Round 1 Results
.............................................
Stage 3: Delphi Panel (Round 2)
Round 2 of the Delphi panel. The Delphi Round 2 survey was launched on 14 July 2020. Round 2 will re-evaluate the remaining 55 themes alongside 8 themes indicated as unclear in the first round and 10 new themes generated by panellists in Round 1.
.............................................
Stage 4: Workshop
The final stage in the process seeks to ratify the curriculum through a WHO-TDR workshop.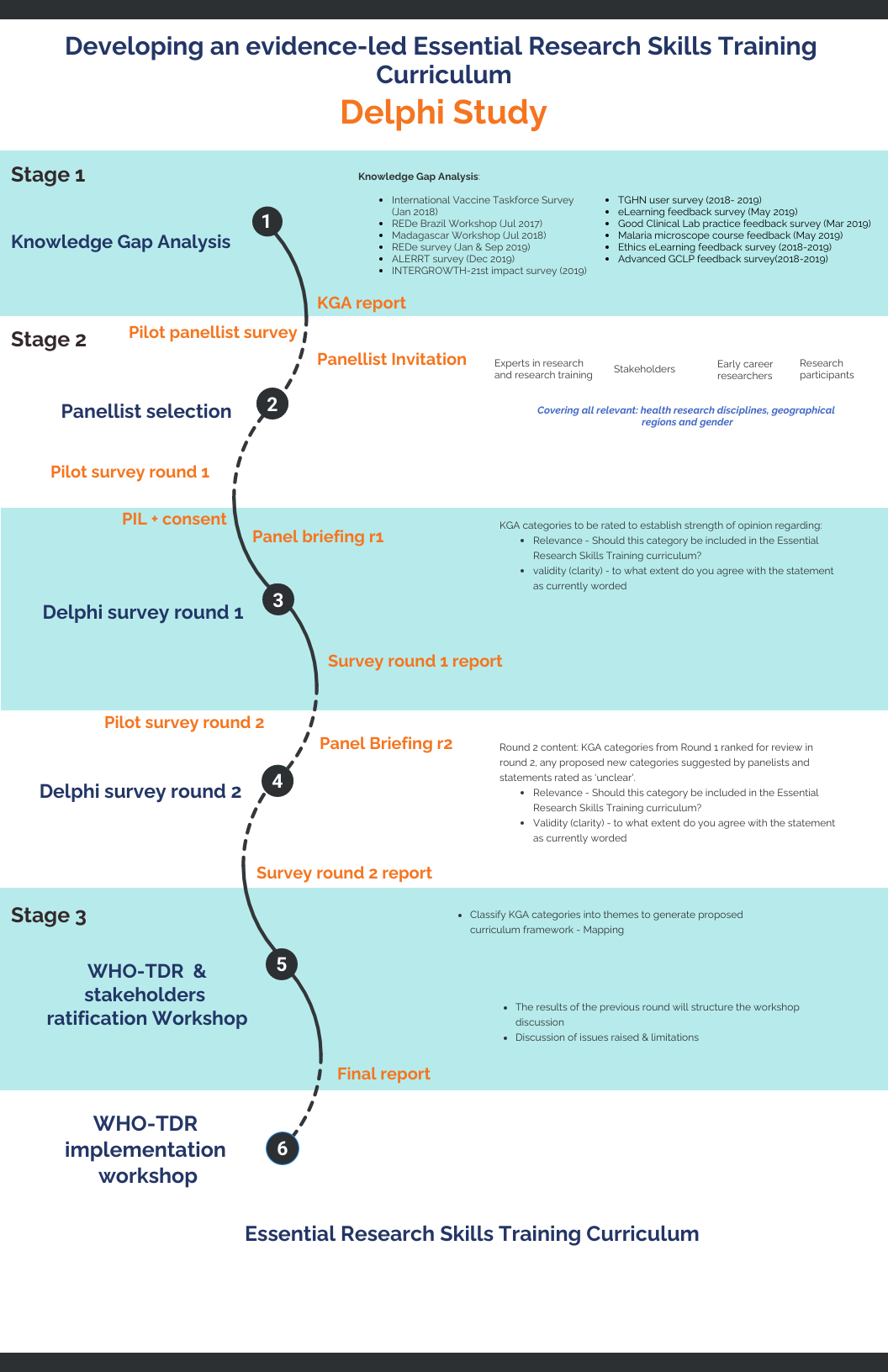 This important piece of methodology research is conducted in association with two international research networks - REDe and ALERRT, and the three EU-funded Zika Consortia.