ALERRT and Networks of Excellence Research Leadership Workshop: What does it take to be a good research leader?
Date: 26 & 27 May
Languages: French, English and Portuguese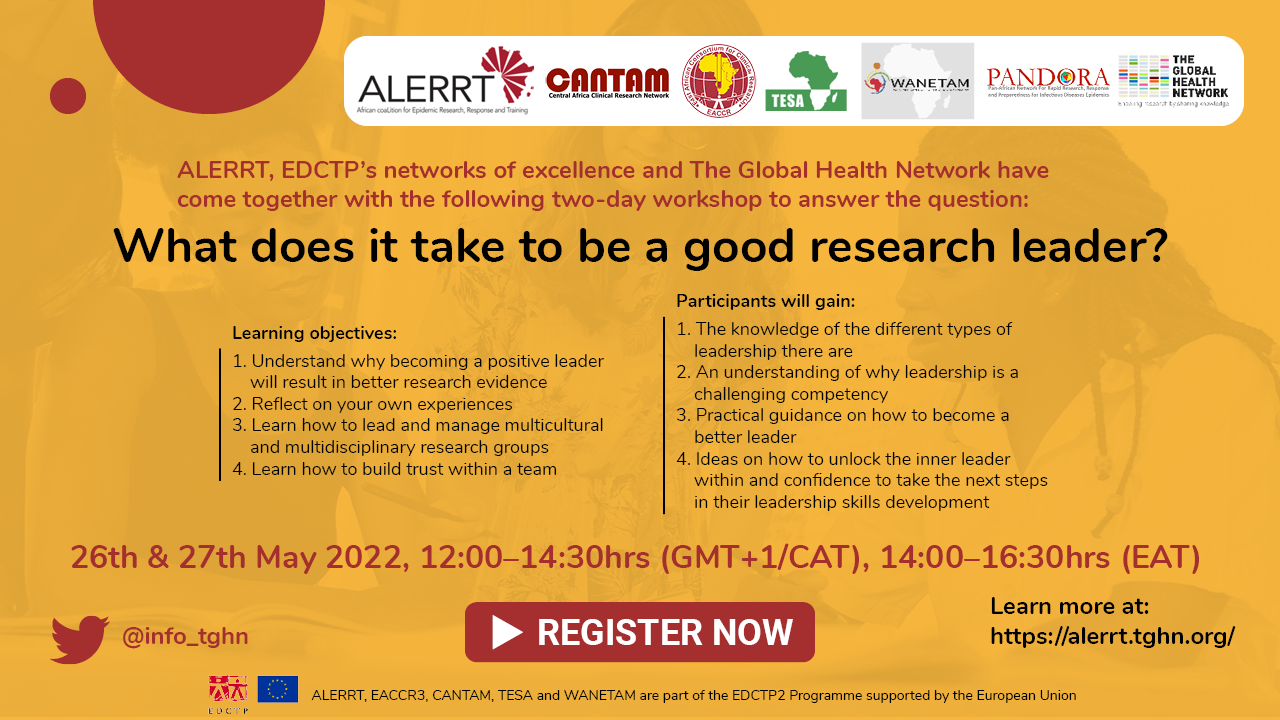 A gap analysis run by TGHN and ALERRT identified key perceived 'gaps' in health and laboratory research capacity: "Better developed leaders and better communication skills so that resources, projects, and research are managed well, and that staff is kept motivated and treated with respect". In the field of research, leadership skills are essential to gain better research evidence. Although all researchers want their resources, projects, and research to be managed well, this can be a challenge without positive leadership and a trusted and motivated team. Alongside managing multicultural and multidisciplinary research groups, good leadership skills are more essential than ever. This leads us to ask, how do we overcome the challenges that leadership brings, more importantly, 'what does it take to be a good research leader?'.
ALERRT, EDCTP's networks of excellence and and The Global Health Network have come together with the following two-day workshop to address this gap. On day one, you will understand the elements of leadership, the type of leader you are, and tips on how to get you to the leader you want to be. You will also have the opportunity to reflect, discuss and share with peers about your leadership. You will leave this first day of the workshop with a fresh perspective on leadership, and your role as a leader and feel motivated to use these skills taught to meet your research objectives through better leadership. Join day two to dive deeper into the role of leadership within a multicultural and multidisciplinary research group. You will leave this second day of the workshop with a new outlook on the diversity of leadership and the tools to handle working within a team of any discipline and culture.
---
Learning objectives
Understand why becoming a positive leader will result in better research evidence
Reflect on your own experiences
Learn how to lead and manage multicultural and multidisciplinary research groups
Learn how to build trust within a team
Participants will gain
The knowledge of the different types of leadership there are
An understanding of why leadership is a challenging competency
Practical guidance on how to become a better leader
Ideas on how to unlock the inner leader within and confidence to take the next steps in their leadership skills development